Second Class - Version 0.17a
Information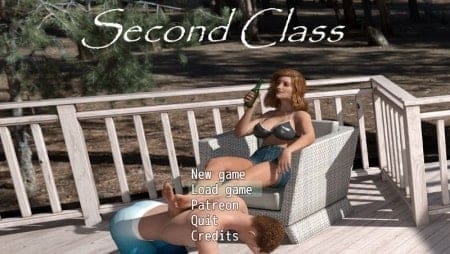 Name: Second Class
Genre: 3DCG, Male protagonist, Female domination, Spanking, Futa, Anal sex, Oral sex, Cosplay, Vaginal sex
Version: 0.17a
Censorship: No
Author: taco7
Last updated: 21 March 2020
Language: English
Made in: RPGM
Size: 1,40 GB 7Z / 1,54 GB UN7Z
About game
The game is set in a matriarchy, where women posses magical powers and rule over men. the game centers around a young man, the two women he shares his house with, and his journey to accept his place in this world.

The mechanics of the game are going to center around the clothing in the game. You will be able to pick what your character wears at all times, and the events and characters in the world will react to what you are wearing. There isn't as much of this as i would like in the first build. but that is mostly due to the slow introduction of clothing, and should improve with each build.
Changelog
So the changes I made in 0.17 seemed to either completely solve or greatly removed the flashing issue for most people. It did cause some people who didn't have problems before, to start having problems. So I've changed it back for this release, and uploaded a flash patch for those affected by the issue.

I think this will be all the work I'll do on removing the flash issue in day one. From the info I got from the polls it looks like only 6% of total players experience significant issues after the patch, and I don't think I'll be able to get it lower than that without completely redoing the animation.

I believe I can solve the issue for day two, so I'm going to focus on that. I'm not going to add anymore content to day one for now, and I think I got all the bugs, so from this point on it's full steam ahead on day two!