Monster Girls Hotel - Version 0.2
Information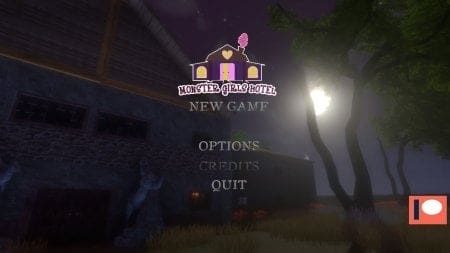 Name: Monster Girls Hotel 
Genre: 3D Game, Male protagonist, Animated, Teasing, Monster girl 
Version: 0.2
Censorship: No
Author: D&G Games
Last updated: 13 March 2020
Language: English
Made in: Unity
Size: 694 MB 7Z / 2,38 GB UN7Z
About game
Your family has inherited an unknown building close to the frontier after your Uncle - a member you did not know existed until this letter arrived - has apparently passed away. As the oldest of the siblings, and having just turned 18, you are tasked with finding out what's the state of the residence. After days of travel, you arrive at what appears to be a mansion of stone, which holds the biggest secret you've found yet. How will this affect your life? How will you get along with the residents? Why was your Uncle here with them?
Changelog
FIXES AND TWEAKS
*Camera smoothness is gone - Horizontal camera movemente is much more responsive than before. Also, a sensitivity slider has been added to the options menu in-game for further tweaking. Hopefully this allows you to find the perfect sensitivity when playing.
*Mouse cursor is gone - It should only show when making choices or in menus.
*Vertical camera can now be inverted - From the in-game options menu, you may now select to invert the Y axis. For those players who are accustomed to that setting.
*Doors have been reworked - They now open much faster, opposite of the player and will stay open until the player is beyond a certain distance. This will prevent doors pushing the player or bothering him in general.
*Walking and running speed considerably increased - This goes for the main map as well as your arrival with the torch on the mansion, leadiang to a much more dynamic movement system.
*Text system has been revised - It will now load dialogue sentences immediately instead of slowly filling it. This is because a portion of players have a very high reading rate. We tried to make both ways of reading compatible but the dialogue tree would need to be duplicated (which is super weird and we are working on it) or have 2 different buttons for instantly filling the sentence and another for skipping to the next one (since both functions could not be assigned to the same key. Again, weird)
*Button mashing - Buttons for opening doors, picking objects up and opening up the menu seem to not work the first few times they are pressed. We are astounded by this since in the Unity Editor they respond correctly, and the code has been checked a few times to no avail. Hopefully your feedback can help us shed light on the issue. For now, double-clicking when opening doors and picking up objects should help a lot.
*Menu prompt added - When pressing "Main menu" on the in-game menu, a Yes/No prompt will greet you to confirm your choice.
*Option menu slightly expanded - It now allows you to see controls, change music volume without having to leave the window, change the graphical setting presets, invert vertical camera and adjust horizontal camera speed. This will continue to be expanded further down the line.
*Changed the Launcher to a splash-screen when opening the game - This change was mandatory after updating Unity to it's latest stable release.It caught us by surprise, and so we made the necessary changes for a semi-functional splash-screen. We are not completely satisfied about it and the way it works, and will continue to improve on it severely. Know that graphical presets are not always registered when game is opened, so just in case choose your preset on the in-game options menu again.
THE BIG ONES
*Interim saving system fixed and added - Last time there was a disfunct saving system in place while we were researching what's the best way to store game objects, variable data and location from the game. This is a 1-slot system which saves every time you sleep on the bed, storing relationships progress and event triggers. Items must be picked up again in their respectibe places. This system will be updated constantly to expand it's capabilities.
*Previous physics sytem discarded, new one added - The previous physics system which caused issues like glitched tits and petrified body parts has been eliminated. Instead, a new and much better reviewed system has been put into place. It's application, though still in early stages, have shown us considerably better results than the previous plugin. Expect more polish and progress the following months of development .
ABOUT RESOLUTIONS
We are unsure if most of the resolution-based problems have been adequately fixed. The Unity Editor points that way. Still, should you have problems like textbox too small, textbox not appearing, glitched objects, over-streched images and menus, etc. we suggest playing on the resolution the game was so far developed in: 1366x768 (Put the pitchforks away and hear me out please, I know it's small but we made do with the hardware we posses. HOWEVER the good news is that we have decided to open spots in Discord for official testers for Windows, Mac and Linux to help develop effectively on those OS. If you want to help us stabilize the game in 1080p, 4k, Mac and Linux please join the server and speak with us about it).
ISSUES WE ARE AWARE OF
*FPS drop when looking at bed. Absolutely baffled by this but, it's getting tested. Wasn't an issue before so it may be related to new tweaks in the physics system, volumetric lightning or similar.
*Buttons not working appropiately. Read above.
*Some terrain misplaced during the intro. we are constantely tweaking it to find a balance between graphical fidelity and performance. Though it doesn't affect gameplay, it still looks bad after all.
*Dialogue options that trigger minigames overlapping after events. It makes you go through the 6 or so lines of text again, which can be bothersome to some. We are checking what's up.
WHAT'S NEXT?
We'll make another "Working with Feedback" post next week taking most suggestions we get from players. From there we'll decide if priority should go to bug fixing, fleshing out features, adding content for the girls or a combination of those. We look forward to hearing your thoughts this week.
Download links
Information
Users of Guests are not allowed to comment this publication.