Monster Girl Garden - Version 0.24 Silver
Information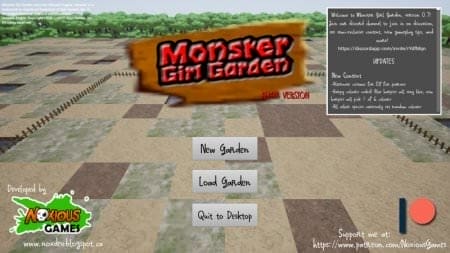 Name: Monster Girl Garden
Genre: Monster, Futanari, Breeding, Rape, Masturbation, Pregnancy, Harem
Version: 0.24 Silver (x64)
Censorship: No
Author: Noxious Games
Last updated: 6 September 2019
Language: English
Made in: Unreal Engine
Size: 300 MB 7Z / 1,67 GB UN7Z
MGG is a gardening/time management game, where the player is given a plot of land to build a garden and attract the various monster girls of the world to come have fun. Creatures will battle, have sex and breed.
Changelog
0.24 Patch: Includes animations for lamia female and all other species females, animation programming complete, monsters should no longer T-pose during sex.

Foreword:
This update fixes a bunch of glitches, and adds some quality of life improvements to the game. This build also adds 5 new achievements to the game, new tournaments with quests, and allows monsters to pass on 'Birthmoves.' Quest indicators now function properly, gold ! means new quest, grey ? means incomplete quest, and gold ? means completed quest. NPC conversation system works properly now as well, freezing the player in place during all conversations, preventing unwanted text skips. This version also adds the final raw resource, "fiber" obtained from grass tufts, and makes grass grow back on 'grass' and 'dry grass' tiles.
New Content:
-Lamia/Mermaid final animations; Idle, Walk, Female Masturbate, Female x Player (oral, vaginal)
-Final Lamia Textures
-Final Mermaid Textures
-5 New Achievements for Kitsune, Mermaid, and paying back your entire debt
-Tournaments up to S rank available, and quests to go with it
-Raw material 'Fiber' added to game, obtained from grass tufts
Big Changes:
-Kitsune and Mermaid now record data, and are visible on the information screen
-Monster's current Move set now saves properly
-Achievements for paying back debt now functional
-Cleaned up almost every quest dialogue, shorter and more concise
-Quest indicators now appear properly over quest givers, gold '!' is an available quest, grey '?' is an incomplete quest, and a gold '?' is a complete quest
-Grass tufts will grow back occasionally on tiles of the type 'grass' and 'dry grass'
Small Changes:
-Fixed a monster command error which allowed the player to command a monster to fight another monster which was already in combat
-Fixed a few species specific oddities in data records and requirement checks
-Fixed a glitch in the stylist which cost the player all their money :eek:
-Fixed a glitch allowing monster sex animations to play while they were moving towards eachother
-Fixed conversation system, when talking to NPCs the player is held still, and can only move when out of conversation
-Fix a glitch preventing rocks in the quarry from respawning on a new day
-Fixed a glitch which allowed the Player to sleep through monster EN restoration, this now occurs on the new day event, like pay debt and goulder respawn, therefore it will occur at 12am every day instead of 6am