Towergirls Kingdom: Conquest - Version 0.12.3
Information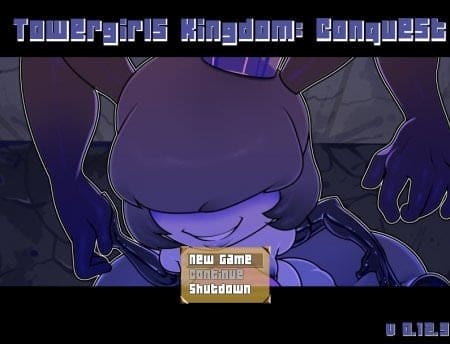 Name: Towergirls Kingdom: Conquest
Genre: Strategy, RPG, Male hero, Adventure, All sex, Blowjob, Furry girls, Dragon girl, Princess, Monsters
Version: 0.12.3
Censorship: No
Author: Towerkc
Last updated: 2 July 2017
Language: English
Made in: RPGM
Size: 471 MB ZIP / 478 MB UNZIP
About Game
Towergirls Kingdom: Conquest is a RPG-Strategical game hybrid where you, the Knight, will have to decide the fortunes of a kingdom, plunged in war after the sudden disappearance of the former ruler, the Dragon Princess. The world is split in two big regions, with everything a RPG needs: there are cities, hidden dungeons, events laying around, a lot of NPCs... and each region is home to the reigns of 10 different princesses, adding up to the grand total of 20 different, and unique ones! At the beginning of the game all the reigns will be in peace with each other, but as time passes (there's a day/night cycle), even if the player decides to just sit on the map, some of them will grow stronger than other ones (depending on racial attributes, their wealth accumulating and other random factors to spice things up). If the gap reaches critical levels war ensues. As the Player you can help maintaining peace, outright favor one of the 20 princesses (directly or not), or just watch the world burn from afar. There's a story going in the background, but the game itself remains completely open-ended. Every faction has some winning conditions to satisfy in order to win the game and when it happens, there's a NG+ where you'll be able to carry (soon) special items and bonuses you got in the game that just ended! Needless to say there are a lot of Visual Novel sections in the game, in which we are investing our energies as much as with the RP/strategical ones! The player will be able to interact with princesses and NPCs, gaining Affinity Points with them, that will eventually permit you to access the fluff 'n lewds
Changelog
patch 2
Teleport out from the Prison during DPII route
Rape damage going crazy high even with low Corruption
Crash when a pregnancy is triggered
Slave dresses will now be equipped to the Princess you buy from an auction
Font and text placement during Slaves Auctions fixed
Fixed Desert Boss orbs appearing only when the player moves
Fixed Frog Princess Water event for Cat Princess
v12.3
Step 3 and 4 of Dragon Princess II route added!
Dragon Princess II adult animation #2 added!
Pregnant + naked portraits for the Princesses added!
Prisoner portraits for the Princesses added!
Redone costume for Human Princess ("White Flower Garments")!
12 new campsite events added! 1 for each Princess you can get pregnant!
New assets for pregnancies added, clearly showing how it's progressing!
Infiltration events for Insect, Ghost and Skeleton Princess added!
Added sprites for Trevor, Lina, Crowley, Arcane Princess and Gazers!
Added Merchant Princess cheat!
[NEW]Added the new monsters and enemies' portraits to the dialogues around the world!
Several bugs and typos fixed.
Download links
Information
Users of Guests are not allowed to comment this publication.