Information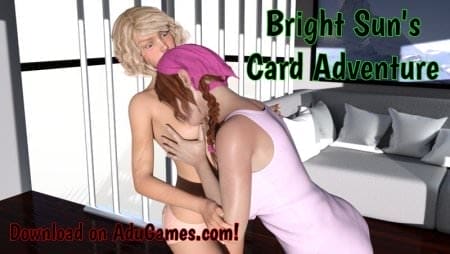 Name: Bright Sun's Card Adventure
Genre: 3DCG, Stats, Slice of life, Female protagonist, Male protagonist, Lesbian, Romance, Love, Mystery, Exploration, Masturbation, Sex toys, Futa, Card game, Minigame, Collecting 
Version: 0.2 + Walkthrough + Incest patch - Android version 0.2 can be found here!
Сensorship: No
Author: Bright Sun Studios
Last updated: 24 October 2018           
Language: English
Made in: Ren'Py
Size: 761 MB 7Z / 874 MB UN7Z
I created this game to celebrate being an active adult game developer for a full year. This game is narrative focused game with combat with JRPG mechanics mixed with a card game and card collecting aspect (you can ignore this if you want though). You can play as a girl, boy or futa and you can spend the limited amount of days in the game however you like. Train your social stats, hang out with the other girls living in your house or go explore Bright World, a strange world full of monsters. 
Changelog
- Added conversation 16-22 for Daisy
- Fixed some typos