Intimate Relations - Version 0.90
Information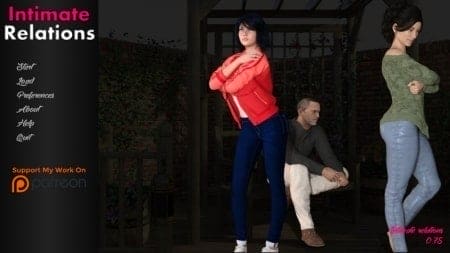 Name: Intimate Relations
Genre: Visual novel, 3DCG, Male protagonist, Animated, Cheating, Big tits, Big ass, Female protagonist, Handjob, Incest, Lesbian, Masturbation, Oral sex, Vaginal sex, Voyeurism
Version: 0.90 - Download Android version 0.85 from AdultAPK.com for free!
Censorship: No
Author: PTOLEMY
Last updated: 30 September 2022
Language: English
Made in: Ren'Py
Size: 1,96 GB 7Z / 2,15 GB UN7Z
As soon as he was old enough to call himself a man, Andrew proposed to Jane, his high school sweetheart, Things seemed great, and with her support he manged to climb up the corporate ladder very quickly. A few years later, Jane became pregnant. And 9 months later, Kelly was born. Now Kelly is attending a University in the same city that the live. She never wanted to go to far away form her dad. Andrew got her a place closer to school, but she still spends half her time at home.


Game tags (click on them to see more games):
PTOLEMY
,
Ren'Py
,
Visual novel
,
Big tits
,
Oral sex
,
Cheating
,
3DCG
,
Male protagonist
,
Animated
,
Big ass
,
Female protagonist
,
Handjob
,
Incest
,
Lesbian
,
Masturbation
,
Vaginal sex
,
Voyeurism
Information
Users of Guests are not allowed to comment this publication.