New Paths - Version 0.05c
Information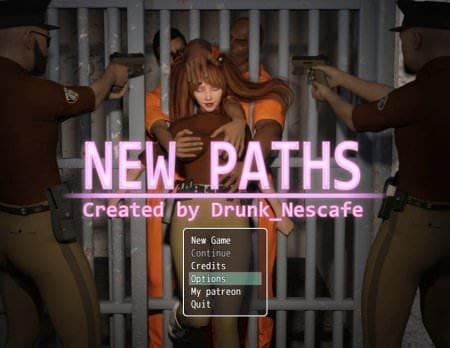 Name: New Paths
Genre: RPG, Adventure, Quest, Big breasts, Corruption, Blackmail, Exhibitionist, Voyeur, 3DCG
Version: 0.05c (light compressed edition)
Censorship: No
Author: DrunkNescafe
Last updated: 1 June 2019
Language: English
Made in: RPGM
Size: 881 MB 7Z / 1,02 GB UN7Z
We follow the female protagonist and her choice to move away from the Mountain Village to the capital. She at this point has a job as a waitress/bartender at the local bar. Where the male customers not always are the nicest.
Changelog
Bug fix:
· Fix bug trigger at the bedroom. There are some random events trigger when the time hits 03.00 at night. Trigger change around 30 %
· Fix a big bug that quest doesn't show at the start of a new game.
· The trigger for the Photograph quest now works 100.
· Clean up much of the code at the Café, capital.
· Around 40+ smalls bugfix/rework some code.
Added:
The public event (where females send in pictures/movies/novels etc. Is still on. And have two new enters. Two Norwegian girls. In total 6 movies and 21 pictures.
New events at school.
New events at home town (Bar) This event is not triggered by the corrupted stat.
A new event at home (watch TV)
The new weather system is finished. Still, need to add the outdoor paths for different seasons. But for the moment it works. Others plugin have gotten some rework/update.
Added more text and renders to the studio event.
Note for the new weather system, it still needs some love and improvement. Since this is an only visual improvement, I will continue to improve this over time. link
Input the towel outfit in the home.
Added bicycle to world map. (travel time 25 min, instead of 45 min for walking) Start the quest right outside of Mel store.
All the seasons have been added for the outside maps. (Summer, spring, winter and fall)
Changes:
Mother has been reworked and re-render. (This so the face animation will work)
Priest has been reworked and re-render. (This so the face animation will work)
Lidka (Girl in school) has been reworked.
Changed in-game start date. This so the weather system says its summer and not winter.
All the NPC face animation have been sent to my photoshop guy. And 90 % of the NPC have face animation in the scenes.
All the renders are getting some love in photoshop.