Something Unlimited - Version 2.1.999
Information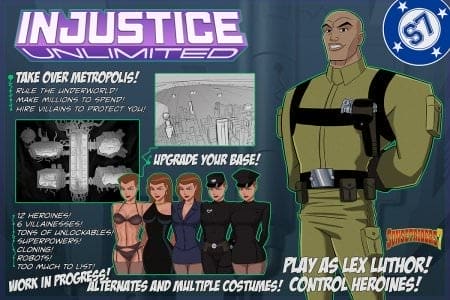 Name: Something Unlimited 
Genre: 2DCG, Male protagonist, Parody, Animated, Fantasy, Sci-fi, Corruption, Management, Superpowers, Sex toys, Vaginal sex, Oral sex, Anal sex, Prostitution, Mind control, Cosplay, Voyeurism, Titfuck, Blackmail, Exhibitionism, Handjob, Humiliation, Interracial, Masturbation, Spanking
Version: 2.1.999 + Walkthrough
Censorship: No
Author: Sunsetriders7
Last updated: 7 December 2018 
Language: English
Made in: Unity
Size: 692 MB 7Z / 5,57 GB UN7Z
The game obviously is inspired by the DCAU and has elements of the episode "Grudge Match" from season 2 of the JLU series, but this is completely parody. Not everything is hinged on that but it's the loose concept for the game to take place. Instead of starting an underground pit fighter you're starting more like a brothel/strip club. I wanted to stay away from the Training idea because it's just so much harder to make it make any sense and keep the characters relatively true. In this you'll simply upgrade their control devices and eventually be able to just inject whatever personality you want. It's of course based on Akabur's Princess Trainer but I wanted to have more freedom to just do whatever. The game plays the same though, you generate money daily to unlock more things. I'm still figuring out what will actually be in the game at the initial release just based on time. I plan to keep adding to it though, everything in this game has been designed to be expanded. So you can think of the first official release more as a milestone and more will come in the future. The game will be released for free with an exclusive content for Patreon supporters.
Changelog
Here are the major issues that were fixed:
- Killer Frost lesbian scene system overhauled
- Blackfire and Mercy Killer Frost scenes unlocking, with older saves as well
- Starfire switching costumes in her cell during conversations
- Yacht event locking out when replaying the game
- Audrey cloning event locking out when replaying the game
- Raven's Special menu back button not working
- Terra's Private Room scenes showing wrong costume in vault
- Lex staying on screen during Terra leash scenes.
- Cheetah, Livewire and Giganta vault scenes not unlocking
- Penguin Henchwoman Blowjob scene

Remember, if you have bugs to report, it's best to use the Discord "bugs" channel. 
SU is still a work in progress, so expect bugs.
Besides, it's still more playable than Fallout 76.