Now & Then - Version 0.99.0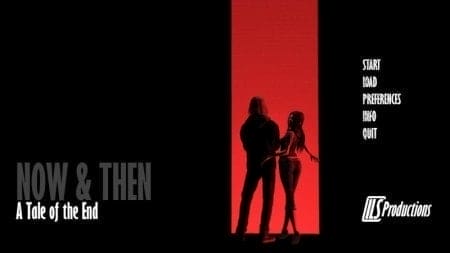 Information
Name: Now & Then
Genre: Visual novel, 3DCG, Male protagonist, Animated, Romance, Big tits, Handjob, Vaginal sex, Oral sex 
Version: 0.99.0 - Download Android version 0.99.0 from AdultAPK.com for free!
Censorship: No
Author: ILSProductions
Last updated: 25 March 2023
Language: English
Made in: Ren'Py
Size: 3,69 GB 7Z / 3,81 GB UN7Z 
About game
Now & Then is a story of Jack (or a name of your choosing) Brooks, a widower who lives with his adopted teenage daughter, Carol, during the aftermath of a global pandemic. Throughout the story, players witness the string of events that finds Jack adopting Carol and how they grow into a family unit before the collapse of civilized society. Inspired by Stephen King's The Stand and numerous zombie movies and books, Now & Then is a tale of survivors learning to cope with the life as it comes to them.
Changelog
Added Chapter Select
Added Outtakes
Fixed image error in Sydney ending
Fixed typos and grammatical errors throughout
Added code that turns off Alt Scene notifications once you've completed the game once
Reshoots of images throughout to clean up excessive camera changes, lighting, or continuity issues
Fixed a flag where Carol sees a flashback of making out/mention of making out in Ch4 even if Jack left early
Updated/reshot/extended A Dream of Alice (Chapter 4) and extended "Carol's Visit" at the end of Chapter 4.
Added animation and extended Carol and Jack in "Sex Montage" in Chapter 6
Fixed shots/animation in Carol and Jack nighttime sex in the apartment (CH7: Carol Raw)
Added extra scene with Naomi in CH7
CH9: Added the option to choose to join Carol in the shower or not, added THEN scene with Julie (starts Julie sidequest)
CH10: Reshoots/code script cleanup, changed "I don't really feel comfortable..." choice to skip the second choice for Naomi
CH11: New scene with Carol, extended Naomi "Legitimate Massage" scene, added extra scenes after Game Over in the attack on the school
CH12: Extended Naomi's "Cheerleading"
CH14: Added THEN scene with Naomi, extended scene when you take Naomi with you to go exploring
CH14: "Tell her you're there for her.": Sydney Nerve from +1 to – 1
CH14: Removed extra Naomi Love point in alt scene
CH15: Added choice to skip Carol's alt scene in the gym, added extra scenes with Naomi/Sydney after threesome, new scene with Sydney
CH16: Added new scene with Julie
CH17: Added small scene with Carol, added scene with Carol and Naomi, added new scene with Alice
CH18: Extended a small scene to gain extra point with Alice, new scene with Alice
CH19: New THEN scene with Naomi, new small scene with Naomi before the dinner with Alice
CH20: New scene with Naomi, new scene with Julie, extended scene with Emmie and McCreary, new scene with Carol
Cleaned up code where internal thoughts for Carol and Sydney were not properly color coded in Ch20 and Ch21
CH21: New Emmie scene
Ch21: Converted "Because I love you." from Naomi Love +1 to Naomi Nerve - 1
CH22: Extended scene with Julie and Sydney
CH23: Added new Alice scene
CH24: New short scene in White Oak
CH25: Two new scenes with Julie, one new scene with Hana, one small scene with Julie, one small scene with Hana, and additional story at the end if you've unlocked either new ending
CH25: "I love you, Naomi." after sex from Naomi Love +1 to Naomi Nerve -1
CH25: Fixed code in 25 where McCreary no longer uses the fake name "Paul" when the player's chosen name is Paul.
Endings/Epilogues: Fixed a missing flag that keeps players from seeing Julie sex scene in epilogue.
Endings/Epilogues: Corrected ending scenes with Sydney missing her tattoo.
Endings/Epilogues: Corrected missing animation in Naomi + Sydney sex scene
Endings/Epilogues: Two new endings
Endings/Epilogues: Extended scenes with Syndey, including pregnancy content
Game images gallery
Information
Users of Guests are not allowed to comment this publication.