Information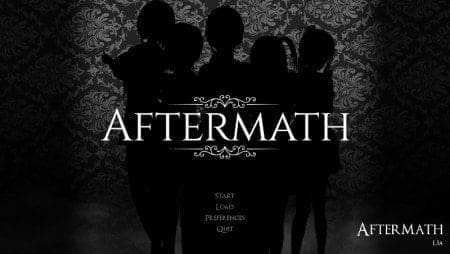 Name: Aftermath
Genre: Visual novel, 3DCG, Male protagonist, Harem, Romance, Groping, Dating sim, BDSM, Corruption, Male domination, Spanking
Version: 1.6f 
Censorship: No
Author: VileMedia
Last updated: 16 May 2021
Language: English
Made in: Ren'Py
Size: 428 MB 7Z / 557 MB UN7Z 
A nuclear war between global superpowers has left the world in ruins. Society's elite have retreated underground into a network of state of the art survival shelters built and maintained by a mysterious shadow organization known as "The Clergy". You take the role of a high ranking member's son as he reluctantly inherits the role of commanding and overseeing the operation of one these stations. The catch? They're all women!
Changelog
- Bugfix

- Fixed the mistake that prevented the second half of the pool event from triggering (Huge thanks again to masterdragonson)
- Corrected more misaligned library rooms
- Corrected a spelling error during the first story event
- Fixed the reversed progress bars in the stat book
- Fixed an icon not displaying in the replicator if you didn't have enough credits
- Corrected some backgrounds from displaying before an event is triggered
- Fixed the background music for one of Alex's events not ending
- Fixed the screen that doesn't close properly in the dining room
- Corrected a spelling error in Gracie's dining room dialogue
Информация
Посетители, находящиеся в группе Guests, не могут оставлять комментарии к данной публикации.