Information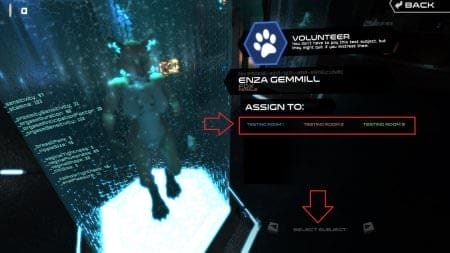 Name: Rack 2
Genre: 3D, Furry, M/F/Futa, BDSM
Version: 0.2.5
Censorship: No
Author: Fek
Last updated: May 2018
Language: English
Made in: Unity
Size x32: 239 MB 7Z / 644 MB UN7Z
Size x64

: 241 MB

7Z

/ 651 MB 

UN7Z
About game
Rack 2 is the successor to Rack. It is a science/bondage-themed porn game featuring male and female test subjects made in Unity.
PC Build is very buggy (sometimes won't start on Windows 10) - Play at your own risk. That bug hasbeen reported.
Changelog
- Some of the fetish preferences now actually do something!
- The "animal-style genitals" preference will now determine what kind of genitals your randomly-generated subjects have.
- The "size difference" preference will now influence the overall scale of your randomly-generated subjects. With a low setting, characters will all be similarly-sized, with male subjects being slightly larger than female subjects, on average. With a high setting, a character's size is heavily influenced by their species: tigers and horses will tower over fennecs and mice.
- The "inflation" preference will now control how quickly, if at all, subjects begin to inflate when filled with cum.
- The "squirting" preference will now control how much, and how commonly, female subjects squirt during orgasm.
- The decal system is now working with the new fur shader.
- The decal editing interface has been slightly improved, making it a bit easier to place decals on characters in the advanced editor.
- The interaction framework has been completely overhauled, in order to support multiple simultaneous interactions.
- An interaction can now be moved to the background by pressing SPACE. When you move an interaction to the background, you can continue to perform that interaction by pressing and releasing space rhythmically. The faster you press and release, the faster you perform the interaction. While performing a background interaction, you can use the mouse to start and control a second interaction. That second interaction must be compatible with the backgrounded interaction, and right now, very few interactions are compatible with each other. As we move farther into phase 2 (and especially phase 3), more interactions will become simultaneous-compatible.
- Two new interactions have been added for the Rack Chair apparatus: nipple tease (works on all test subjects) and breast grope (works only on test subjects with breasts). These interactions automatically use the backgrounded interaction system, performing the interaction with both hands if you have both hands free. These interactions will be available on other bondage racks eventually.
- The boot sequence has been cleaned up a little bit.
- Fixed some bugs with ball fondling.
- Fixed some physics/collision bugs that were happening in the lobby.