Fallen Doll - Version 1.30 (VR and nonVR)
Information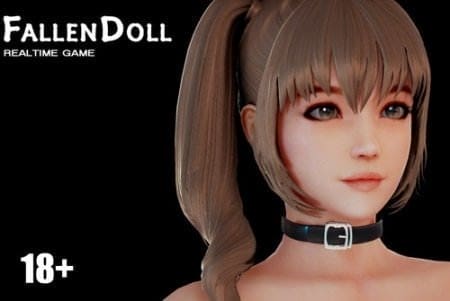 Name
: Fallen Doll
Genre

: 3D game, Big Tits, BDSM, Masturbation, Oral sex, Anal sex, Toys
Version
: 1.29 Beta VR / 1.30 Beta nonVR
Censorship
: No
Author
: Project Helius
Last updated
: 11 April

 2019
Language
: English
Made in
: Unreal Engine
Size VR

: 1,99 GB

7Z 

/

7,15 

GB UN7Z
Size nonVR

: 2

,03 

GB

7Z 

/ 7,19 GB UN7Z
Ladies and gentlemen, our most valued customers and friends, a very fine evening to you! It's the moment we've long been waiting for - the grand opening of the Erotes Nightclub. It is not only a place of comfort and luxury, but also a proving ground of a cutting-edge scientific achievement: the state-of-the-art bionic humanoid robot, codenamed Erika will be at your service. The recent breakthrough of synthetic tissue enginneering has pushed scientific boundaries far beyond the imagination of our ancestors, and we are delighted to have you here to behold and enjoy such a special experiment:

Is that possible to create a robot which has feelings and reactions like a person? Or let's take it a step further: Is that possible to create a synthetic body which is indistinguishable from a real human? Erika will be the answer. Will she be the Aphrodite we all lust for? Or merely another lifeless sex doll waiting to be disposed of? The curtain has risen, and the show must go on!
Code information
Easy to crack. Here is the way.
Download both Fallen Doll ver 1.29 and 1.30.
Then, replace the following two files in ver 1.29,
 FallenDoll\FallenDoll\Content\Paks\FallenDoll-WindowsNoEditor.pak and FallenDoll\FallenDoll\Saved, with these in ver 1.30.
Start Fallendoll.exe in ver 1.29 and enjoy the game.
Changelog
New Interactions:
Sexwall:
Forced Blowjob
Forced Threesome
Voluntary Footjob
Forced Footjob
Operation Bed:
Single Leg Bound Vaginal Penetration
Face Down Vaginal Penetration
Anal Drill Test
Single Leg Bound Vaginal Drill Test
Lying Vaginal Penetration
Leg Holding Vaginal Test
New Set: Manacle
Manacled Vaginal Sleep Sex
Missionary Vaginal Sleep Sex
Improvements:
(VR) Eye tracking fixed
(VR) Added camera tilt option
(VR) Oculus Touch left controller issue fixed
Lip sync improvements
Squirting effect revised
Heels can now be weared across different poses
Added quick save/load buttons for display settings
Outfits clipping issue fixes
Sound effect fixes and volume adjustments
Pole dancing now available in nightclub's tool menu
Male pov mode can be set to any male in foursome poses
Added field of view settings for male pov mode
General bug fixes