Information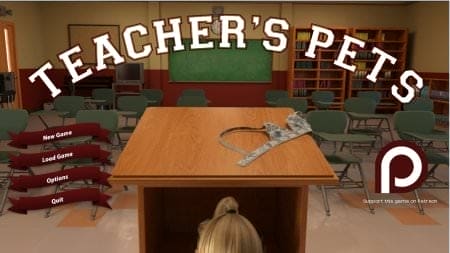 Name: Teacher's Pets
Genre: Visual Novel, Interactive, Erotic Adventure, Sexy Girls, Small Tits, Beautiful Ass, Blowjob, Incest, Family Sex, Father-Daughter, Mom-Daughter, Mind-Control, Corruption, Blackmail
Version: 2.061
Censorship: No
Author: irredeemable
Last updated: 8 February 2018
Language: English
Made in: Ren'Py
Size: 286 MB 7Z / 332 MB UN7Z
Teacher's Pets is an adult game. You play as a teacher starting out at a new school. There are schoolgirls, there is your wife, there is your beautiful daughter. How you interact with each of them is up to you but, yes, there will be sex.An incomplete list of planned fetishes:
incest (f/d and m/d)
teen(18+)/schoolgirl
corruption
mind control
voyeurism
blackmail/coercion
impregnation
sleep
monogamy
Any of the more extreme stuff or content that some people might find particularly objectionable will always be avoidable.
Changelog
This build fixes the Anne thing mentioned earlier, and also takes care of some issues with Kait/Chad hallway scene. 
Oh, and also Sara was getting turned into a shop. 
This version will turn her back into a human being. I'm releasing it as a new build rather than a patch in an attempt to curb any more accidental transmogrifications of poor Sara. 
Change log:
New renders added
All shop screens now use the same interface and will scroll if necessary.
Relationships & inventory screens have been redesigned
Other shops (including dealers) no longer share their catalog with the superstore. All erroneously stocked items should be removed from saved games.
??? and 'Toine no longer react as if you're at your item cap if you can't afford their product.
Opening ???'s shop screen will no longer remove your ability to buy heroin or find 'Toine.
You can now choose not to ask ??? about pot even if you're on a mission to find it.
??? now welcomes you to his crib even after your first visit.
FEX chat scene now correctly subtracts $20 if you agree to give it to her
Altered the flow of some dialogue in Dotty scene
Some dialogue and tooltip changes
Typo fixes
Stuff I forgot to document (probably)
New bugs (probably)