Information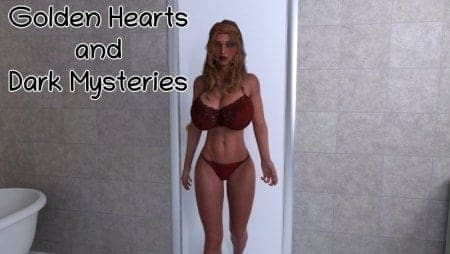 Name: Golden Hearts and Dark Mysteries
Genre: Visual novel, 3DCG, Male protagonist, Dating sim, Big ass, Big tits, Vaginal sex, Titfuck, Masturbation 
Version: 0.2a
Censorship: No
Author: Radiant Heart Games
Last updated: 1 June 2020         
Language: English
Made in: Ren'Py
Size: 727 MB 7Z / 872 MB UN7Z 
You play as a 28-year-old man who is working in a very prestigious company in a very demanding job. One day you find your boss in a very strange situation... The same day you get into a car accident. You don't think that this is an accident and you try to prove, that your Boss, Mr.Pinewell, is involved in some shady business... At the same time you'll need to manage your private life and help your character achieving his goal to be the best man he can be!
Changelog
Introduces the roaming and dating system. I recommend starting a new game.
You can now freely walk around Solseta City! This update introduces the first hald of the major game mechanics: Dating! Go look for the girl you desire, seduce her and then take her on a date!
- Schedule system for girls: They will be in different locations and wearing different clothing depending on the time of day and which weekday it is!
- 12 Erotic Scenes (2 for each girl, trigger randomly)
- 12 smaller Scenes giving background information about each character (2 for each girl, trigger randomly)
- 6 first heart dates for each girl
- Short introduction after the prologue
- Hundreds of background, character and other renders