Information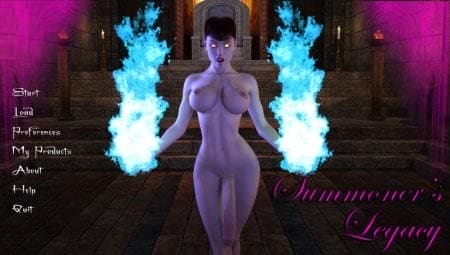 Name: Summoner's Legacy
Genre: Visual novel, 3DCG, Futa, Corruption, Creampie, Harem, Incest, Masturbation, Lesbian, Milf, Oral sex, Vaginal sex, Monster girl, Group sex
Version: 1.0 Elite + compressed - Download Android version 1.0 Elite from AdultAPK.com for free!
Censorship: No
Author: Nun Ya
Last updated: 11 October 2020
Language: English
Made in: Ren'Py
Size: 1,58 GB 7Z / 1,74 GB UN7Z
Size compressed: 375 MB 7Z / 478 MB UN7Z
You're the descendant of the infamous occultist Aleister Crowley, and coincidentally you also have a fetish for the occult. So when you came across an old bookstore that claimed to have a book that was reportedly given to Aleister Crowley by a powerful demon lord. With that kind of backstory you could not help but bring the book home with you and peruse it's contents in the security of your own bedroom. While reading one of the spells, (Which as a side note: was so easy it almost made you think the whole book was bullshit.), you didn't even realize that you were no longer alone in the room. What started out as a morbid curiosity will end in an erotic encounter that will leave you irrevocably changed forever.
Changelog
Two are morning scenes with the Landlady in the MC's bedroom and another one is a morning scene with the MC and the Landlady in the kitchen and the fourth is the scene with the MC, Synn and desire at their apartment after working the Glory Hole.
Information
Users of Guests are not allowed to comment this publication.