Information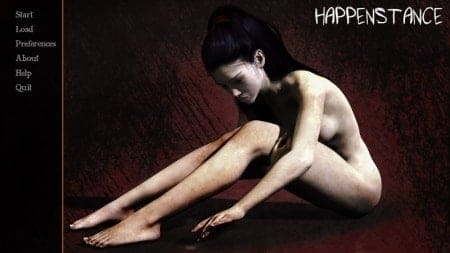 Name: Happenstance
Genre: Visual novel, 3DGC, Male protagonist, Animated, Corruption, Male domination, Teasing, Groping, Masturbation, Cheating, Vaginal sex, Anal sex, Creampie, Oral sex
Version: Update 1.70 + compressed
Censorship: No
Author: Undertow Games
Last updated: 1 June 2020
Language: English
Made in: Ren'Py
Size: 1,96 GB 7Z / 2,06 GB UN7Z
Size compressed: 347 MB 7Z / 422 MB UN7Z
Mid-City, the epitome of affluence, decadence and technological prowess. A city that is considered a global superpower. YOU live in this glorious city. You know that beyond all the glitz and glam lies the sinister and the suffocating. Like a blessing to your arduous life, you discovered a strange power. Will this power be your weapon to finally strike down the filth of this city? Or will it be the shackles that will drag further to self-destruction?
About compressed version
We used some strong tools, so quality of compressed files may be lower than the original. Also we used some 
webp codec
and 
webm directshow filters
you may have to download and install. 
We recommend to download full version to get 100% of game experience.
Changelog
How is everyone doing? Hope you are all doing well in these circumstances. My country is still in lock down. I thought I'd have more time to work with the game, but apparently having children out of school means I cannot work on an adult game when they are around.... Since this update was mainly adult scenes, ironically I had less time to work despite more time available.
This setback was compounded by Octane's latest build. Against wisdom, I decided to update to Octane 2020 stable version... It apparently wasn't as stable as I and a lot of others hoped it to be. Crashes. Crashes galore. Some has work around but geezus... Nothing is more frustrating than rendering the animation before going to bed only to wake up and it crashed midway. And those same scenes rendered just fine prior to install the new Octane version. On hindsight, I probably should've updated after I finished the scenes. Sigh.
Postscript:
I am thinking of migrating to blender. Daz is severely limited in animation and physics. Animating breasts movement manually is a pain in the ass. But the Octane plugin for blender is on the same boat as Daz's. Pretty much neglected when it comes to features and bug fixes. Though after doing a small test animation with soft body physics, it looks absolutely better than what I can do with Daz. So I am leaning towards the migration but importing all those shaders to blender....... Ugh.