Information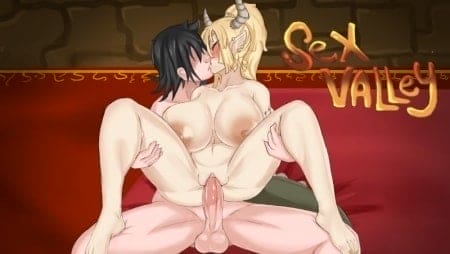 Name: Sex Valley
Genre: 2DCG, Big tits, Fantasy, Male protagonist, Oral sex, Vaginal sex, Futa, Creampie, Monster girl, Footjob, Group sex
Version: 0.3.5 - Download Android version 0.2.151 from AdultAPK.com for free!
Сensorship: No
Author: Zehmun
Last updated: 23 August 2021
Language: English
Made in: RPGM
Size: 1,08 GB 7Z / 1,31 GB UN7Z
You will be in the control of a young man living in a small village in a small port town in a large magical land. Being the only man in age to reproduce in the village, you shall partake on various activities with diverse types of girls! Just returning from long years of training, you will see the changes time made on the village you grew on and on the girls that live there. Are you ready to utilize your powers to help the growth and prosperity of a little village?
New Content:
Added a new introduction to the game (and some little scenes as you progress through the caves)
It adds motivation for the protagonist!
Added Repetitive #62 69 scene
Talk with #62 inside the abandoned house north of the city after completing Lene quest 2 and unlocking #62 schedule, 06:00~12:00hrs, Wednesday.
Maribel now sells a revival item!
It only works on companions.
Added a fast travel hole to Peach's tower.
It's unlocked after saving Peach.
It's right beside the entrance to the tower, and it leads all the way to Hapi's house.
Changes:
Art Update - Lamiriel
Art Update - Clarine
Art Update - Lene
Fixes:
Fixed an unholy amount of typos on the introduction scene (the one right at the beginning)
Information
Users of Guests are not allowed to comment this publication.