Name: Big Brother: Fan Remake
Genre: 3DCG, Male protagonist, Incest, Corruption, Voyeurism, Anal sex, Lesbian, Exhibitionism, Group sex, BDSM, Blackmail, Masturbation, Oral sex, Handjob, Seduction, Spanking, Male domination, Female domination
Version: 0.13 + compressed + Download Fix 7 for free! - Download Android version 0.13 Fix 7 from AdultAPK.com for free!
Censorship: No
Author: PornGodNoob
Last updated: 22 June 2020
Language: Russian, English (Yandex Translate) 
Made in: Ren'Py
Size: 2,11 GB 7Z / 2,30 GB UN7Z
Size compressed: 618 MB 7Z / 696 MB UN7Z
Incomplete port of the game, Dark Silver - BigBrother. With the addition of mods: A Shopping Adventure, Seduction Mod, Supermod, Lisa's Photo-Session & More and other mods.
To change language use this icon!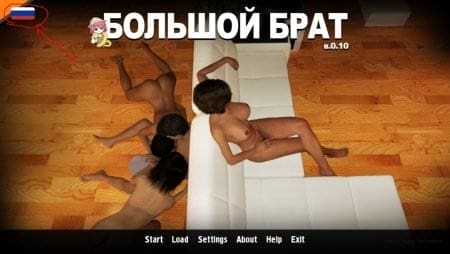 Changelog 
- Fixed an error with "tubs1"
- Fixed an error with time condition at the School
- Fixed bug with appearance of Kate by the pool in the morning
- Fixed an error with Kira's sprite at the Club
- Removed excess from the game interface, forgot to remove it when correcting past errors.
- Fixed an error with the display of the Club icon
- Fixed a possible error when Max is discharged from the clinic
- Fixed a bug when you could get to the clinic room early
- Fixed map blocking error
- Fixed an error in English translation
- Fixed an error in the dialogue menu when passing events with Kate
- Changed conditions for the possibility of vaginal sex with Katya in the living room (for arch. №170)
- Added images in statistics for blowjobs and masturbation
- If there is no cheat mod in the game folder, the screen about alien scripts in the game will be removed.
- Fixed an error with the days skip button
- Added a fix for a possible error of unknown origin when progress with Kate was dumped
- Fixed a bug with repeated punishment if Alice punishes you for being provincial, at the club.
...
- Fixed some errors with name variables in dialogues
- If Max drank too much alcohol at the club, there was no change of day. Fixed.
Information
Users of Guests are not allowed to comment this publication.