Big Brother: Fan Remake - Version 0.10 Fix 4.1
Name: Big Brother: Fan Remake
Genre: 3DCG, Incest, Corruption, Voyeurism, Anal sex, Lesbian, Exhibitionism, Group sex, BDSM, Blackmail, Masturbation, Oral sex, Handjob, Seduction 
Version: 0.10 Fix 3.2 + Download Fix 4.1 for free! - Android version 0.10 Fix 4.1 can be found here!
Censorship: No
Author: PornGodNoob
Last updated: 18 June 2019 
Language: Russian, English (Yandex Translate) 
Made in: Ren'Py
Size: 1,20 GB 7Z / 1,32 GB UN7Z
Incomplete port of the game, Dark Silver - BigBrother. With the addition of mods: A Shopping Adventure, Seduction Mod, Supermod, Lisa's Photo-Session & More and other mods.
To change language use this icon!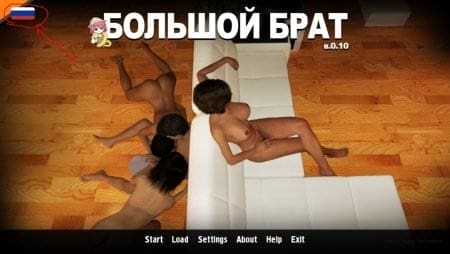 Changelog 
Fix 1
- Fixed an error in the display of the city icon for the driving test
- Fixed bug in launching a new movie on passing events with Mom
The film is available on the same day and time period as the 8th film
__
+Fix 2
Fixed a bug with a variable that does not allow you to move forward with Mom
__
+Fix 3.2
- Fixed bug with hotel room variable when passing new events with Mom
- Fixed Lisa's punishment bug.
There was no way to punish myself, because Mom did it right after the consent anyway.
- Fixed bug with variable counter of number of shoots in porn movies (passing of events with Alice)
- Fixed an error with the code of displaying the bowling button in the shopping mall