Big Brother: Fan Remake - Version 0.11
Name: Big Brother: Fan Remake
Genre: 3DCG, Incest, Corruption, Voyeurism, Anal sex, Lesbian, Exhibitionism, Group sex, BDSM, Blackmail, Masturbation, Oral sex, Handjob, Seduction 
Version: 0.11 - Android version 0.11 can be found here!
Censorship: No
Author: PornGodNoob
Last updated: 12 September 2019 
Language: Russian, English (Yandex Translate) 
Made in: Ren'Py
Size: 1,32 GB 7Z / 1,45 GB UN7Z
Incomplete port of the game, Dark Silver - BigBrother. With the addition of mods: A Shopping Adventure, Seduction Mod, Supermod, Lisa's Photo-Session & More and other mods.
To change language use this icon!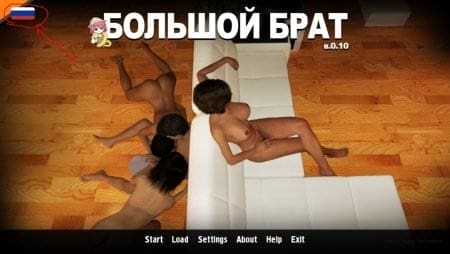 Changelog 
Innovations and additions:
- Added new events with Alice
- Added 7 new achievements
- Updated the art of events related to Aunt Kira's apartment
- Updated location art: Apartment of Kira and Reception Hotel
- Added more tips for walkthrought and chances for different amounts of wine in events with Anna from the update 0.10
- In case you need access to your computer and Mom doesn't have the possibility to get the password from WiFi, you can get it from Alice

Changes and corrections:
- Redone the interface of the page, which is displayed before the menu, after the start of the game.
If a fix is set, the page with the number and list of fixes will be shown immediately
- Added a width limit on the selection button
- Reduced vehicle and Jacuzzi prices
- Added icon for achievements that cannot be repeated
- After 23:00, skip time 2 and 4, not available.
- English. Added translation of porn movie titles
- Changes have been made to the code when Max goes to bed.
- Changes have been made to the transport movement code during missions
- All the previous fixtures were used