Threads of Destiny - Version 0.2.4
Information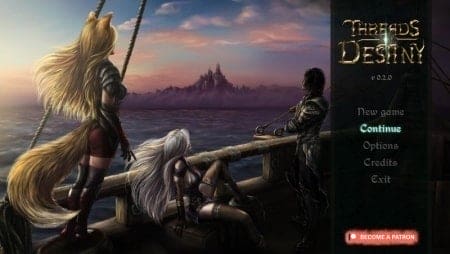 Name: Threads of Destiny 
Genre: 3DCG, Male protagonist, Adventure, Fantasy, Vaginal sex, Oral sex, Anal sex, Big tits
Version: 0.2.4
Censorship: No
Author: ElisarStudio
Last updated: 7 May 2021
Language: English
Made in: RPGM
Size: 1,85 GB 7Z / 2,21 GB UN7Z
About game
The whole plot currently contains 1500 pages. We have already come up with the story of the world and its development but there is still much work on graphics and translation. In our game, there will be several cities, large forests, islands, mountains, steps, farmlands and villages. All of them will be filled with the content and spectacular stories that will make up an exciting adventure. Imagine…What would happen to people if everything that they were used to disappeared at once. The story of the game starts almost one thousand years after horrible events that once caused a complete destruction of people's magic in the world called Neutras. Humanity has accustomed to life without magic… But the magic hasn't gone once and for all.
Changelog
Plot:
The first half of the new quest has been completed. This quest will open access to a storyline dedicated to some of the inhabitants of the brothel in Aklorion and their stories;
A new dialogue with Umi in the Alchemy laboratory has been added. And there is one more dialogue with Umi in Sardo's study;
The dialogue with Elli about her mental abilities has been edited;
Now there is a way to learn a little about Violetta's past (the girl from the brothel). And there are a couple of additional dialogues with her;
Some more dialogues have been added to the quest Louise Ransom;

Graphics:
All the graphics required for the Alchemy laboratory have been done. As new recipes are added, different animations will be added as well;
4 arts with action variations for a new event in Aklorion. All arts for this event are static, but half of them will be animated in the next version;
A bust of a new character, and different clothing variations for a new storyline event;
Bust of Milta, Melanie's sister. Her bust is now set to all the dialogues with her;
Milta's variation of clothes;
Melanie's naked bust has been added;
An additional variation of Leonora's art scene in her bedroom when Folkert attacks her;
Two new animations for Umi's examination event: a missing choke animation and one more additional pose;
Augur's coin has been added (the item will be needed later in the story).
Sprite - characters, and locations:
3 new locations in the game have become available. All lighting options are set in them;
5 locations and brothel interiors have been updated, as well as the ground in front of the brothel;
Several new sprite sets for Sardo have been added;
Sprite set of a new character, as well as a variation of its appearance;
Milta's sprites in different clothes.

Technical aspect and interface:
All the main things related to the Alchemical laboratory have been almost finished. The necessary interfaces and functionality are ready. It will be replenished with new content as the story develops, but it will take less time to fill it with new items.
The sex system has been redesigned. All other scenes which require this interface will be upgraded in a similar way.
Violetta's first scene has been redesigned to match the new sex system. Besides, this scene has been improved, and it became possible to play this sex scene again using the mechanics of the new sex system on repeated visits to the brothel.
The progress bars functionality has been improved. More details can be seen in the interface of the Alchemical and Sex systems.
A Disclaimer has been introduced which will start along with the game. Besides, there will be a page with links to various sections that have answers to some of the frequently asked questions. Later, it will be possible to disable the display of that page each time the game is starts.
Now, the female dwellers of the manor will no longer appear in the journal naked at night time. They will be displayed in either current casual clothes or armor (in the future versions).
Some plugins and other game functionality have been improved.
The Main Menu has got a sub-menu which will contain information on updates;

Bugs fixed:
An error was found at the auction at the beginning of the game;
An error which occurred before leaving for Artaun. It was troublesome to get to the beginning of the event.
An issue with horse animations.


Download links
Information
Users of Guests are not allowed to comment this publication.