Aylia's Story - Version 0.11
Information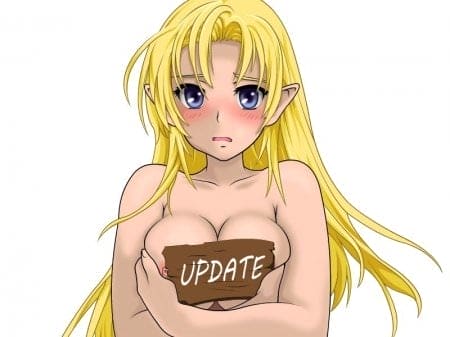 Name: Aylia's Story
Genre: Female Protagonist, Corruption, Clothing System
Version: 0.11
Censorship: No
Author: YummyTiger
Last updated: 2 December 2017
Language: English
Made in: RPGM
Size: 79,1 MB EXE
About
Aylia's Story is a tale of redemption. You take the role of Aylia, one of the last Eliandre, as she seeks to redeem herself in the eyes of the Gods. Throughout the game, Aylia is accompanied by a goblin named Bogwort who loves two things above all else: gold and women.
Changelog
Systems
- Database organization reworked (Will break prior saves)
+ Skills, Items, Weapons, Armors, Switches, Variables, Common Events all renamed and moved into appropriate groupings. This broke A LOT.
+ Iconset updated with weapon and armor variations
+ States defined and created in preparation for the final battle system
+ Drastic changes to common event organization and moved a lot of map events to the common event system to better enable dynamic eventing
+ Gold became "Bits" to reflect that Talyron's currency is based on gold bits. Currencies differ between regions, but all are based on bits.
+ Finalized terminology through for HP, MP, Stamina, Stats, etc.
+ Updated scripts (BlackMorning, MOG, OvertureAce,)
* Added FullScreen++, Bug fixes for pictures and Yanfly's battle system
- Mapping
+ Chapter 1 maps added (Northern and Southern road, Zalran Lake, Zalran hills)
+ Maps reorganized in preparation for Chapter 1 release. Many maps will now be chapter specific to prevent overwhelming number of events
Game Script
- Massive changes throughout. Nearly every written aspect of the prologue has been updated or rewritten. This was done to better transition to Chapter 1 content.
- Nearly every dialogue event modified to change upon multiple interactions. Meaning, you don't get a repeat of an initial dialogue repeating itself as it typical in JRPGs
- Many events now controlled with global switches and variables so they can effect each other
- Changed gem retrieval event line in Zalran mines
- Added minor events
+ Zalran mines
+ Foreman's cottage
+ Zalran Hills
+ Zalran outskirts
+ Zalran Proper, Mayor House, Lida's Shop, Doan's Inn
+ Zalran Fields (Church plaque is a notable addition for those interested in lore)
- Made a number of interactions more dynamic by referencing past choices/interactions
+ Example would be referencing Dirk's interaction with Lida or checking the old Inn before talking to Doan. This is an example of where I'd like the script to go. They are minor little additions, but I feel they go a long way in make the world "living and breathing."
- Added a lot more of Aylia reminiscing about her past throughout. You should now have a better understanding of WHO she is.
Artwork
- CGs
+ CG 1 (crystal) - added panties
+ CG 2 (Mine changing) - 90% revamped
+ CG 3 (Gem searching) - redrew that beautiful, bodacious butt.
+ CG 4 (Standing on cliff) - 50% redrawn (Hair, lower body, panties)
+ CG 5 (Potato Sack pulldown) - completely redrawn
+ CG 6 (Peasant Dress introduction) - redrawn to make the peasant dress more of a sundress, and less of a formal gown.
+ CG 7 (Night conversation) - cleaned up significant, face and hair redrawn, facial expressions added.
* Night conversation changed significantly and moved to Chapter 1. It was only added to the prologue before to test this type of branching dialogue and get feedback.
- Facesets
+ Reorganized facesets to bring consistency throughout.
* Aylia will have 3 full facesets (Primary emotions, secondary emotions, sex emotions)
* Rivals will have 2 full facesets (Primary emotions, secondary)
* Bogwort will have 2 full facesets (Primary, secondary)
* Major characters will have 1 full faceset (Dirk and Tian are the 2 currently in game)
* Minor characters of note have custom faces now (Zalran outskirts and Zalran proper residents)
+ Aylia, Bogwort, Kira, Triste, Tian, Mayor, Doan, Wanda, Voran, Drake, and Saladin faces redrawn or added
+ Vane, Joseph, Dirk, Lida, Goddess faces cleaned up and neck/shoulders added
- Standing Portraits
+ Aylia standing portraits revamped
* Panties High Pride (3 emotions)
* Panties Low Pride (2 emotions)
* Potato Sack (4 emotions)
+ Bogwort standing portrait revamped (7 emotions)
+ Kira standing portrait cleaned up and left arm changed (5 emotions)
+ Triste standing portrait revamped (3 emotions)
- Sprites and tilesets
+ New sprites commissioned for most characters
+ Tilesets added for Divine statues and lore established for each Divine
- Menu artwork updated to reflect revamps
- Enemy battlers created
+ Beholder (H planned)
+ Giant Bug
+ Knockers (H planned)
+ Water Slime (H planned)
+ Mangy Mutt
+ Stickler
+ Fanged Snail
+ Slithering Slime (H planned)
Music and Sound
- Music normalized throughout
- Sound effect normalized throughout
- Music added from the Community RPG Maker Pack
+ Enjoy the Life
+ The Ritual
+ Hamlet
+ Mellow Darkness
- Music removed due to copyright concerns
+ Troublemaker
Download links
Information
Users of Guests are not allowed to comment this publication.