Cohabitation - Version 1.10a
Information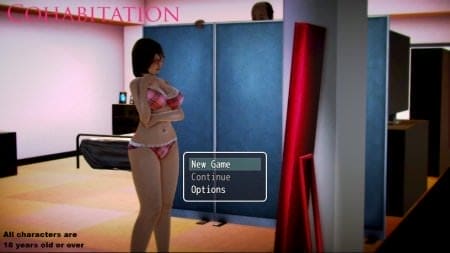 Name: Cohabitation
Genre: 3DCG, Female masturbation, Group sex, Oral sex, Vaginal sex, Blowjob, Groping, Big tits, Training, Voyeur, Corruption, Spy, Pervert, Incest
Version: 1.10a
Censorship: No
Author: Sidvalentine
Last updated: 8 June 2019
Language: English
Made in: RPGM
Size: 590 MB 7Z / 719 MB UN7Z
This is a game I've been tinkering with on and off for the past few months. It's a raising / corruption sim with 3D images made using Illusion's HoneySelect. You play as Calvin who now lives with his niece Megan, and the goal is to corrupt her. It's a fairly modest game. While it's technically an RPG Maker MV game it plays nothing like a regular RPG as it is pretty much purely menu based with a point-and-click system.
Right now this is mostly a proof-of-concept. The intro is done, the early morning and breakfast low affection/lewdness events are done, and I have all the systems in place. I'm posting it now to get feedback on the systems and to trick people into bug testing it for me (I'd be grateful if people could test out the two current game overs: getting to Sunday without $300 and raising suspicion to 100). I'm also open to any suggestions, comments, and criticisms. Plus, hopefully discussing the game will motivate me to continue working on it.
v1.10 
- Prostitution Titjob. It's now part of the list of prostitution services Megan can do at the mall alongside blowjob and handjob.
- Prostitution regular sex. There's now a hidden counter to how often Megan prostitutes herself. Once it reaches three (by doing any of the handjob, blowjob, or titjob prostitution events; doesn't matter which you do so long as you do three) a new event will pop up when you go to prostitute Megan at the mall. Calvin will ask if she's ready to have sex and you can answer yes, which will unlock the new sex scene and later group sex events, or answer no, which will lock Megan into just the handjob, titjob, and blowjob events.
- After doing the above then you'll be able to select 'sex' from the list of Megan's prostitution options at the mall.
- Re-worked the triggers needed to start the prostitution event-chain. You'll now need to turn on the prostitution content (which will now automatically be set ON during a one-time background auto-event during the morning in Megan's bedroom; after that you can turn it on or off in the content options menu) and you'll need to have done Megan's repeatable missionary sex scene. If you're at the point where you can have repeatable sex with Megan without a condom, then when you click on Calvin's bed and call Megan over for sex, select the 'Missionary' sex option (which requires her lust to be at 100) and the trigger will turn on at the end of the event, no matter what options you pick during it (condom on or off, cumming inside or outside). After all that go to the mall and everything should start. If the prostitution content was already working for you then you probably won't have to worry about any of this.
- When you go to select the prostitution options in the content options menu you should now get a message as to whether you have the content triggered on or off.