Cohabitation - Version 1.15a
Information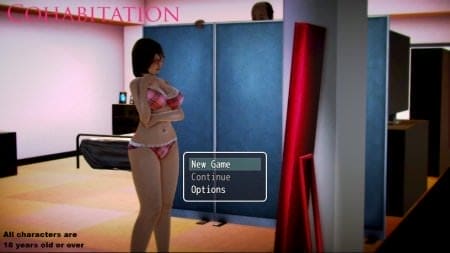 Name: Cohabitation
Genre: 3DCG, Female masturbation, Group sex, Oral sex, Vaginal sex, Blowjob, Groping, Big tits, Training, Voyeur, Corruption, Spy, Pervert, Incest
Version: 1.15a + Walkthrough
Censorship: No
Author: Sidvalentine
Last updated: 22 September 2019
Language: English
Made in: RPGM
Size: 604 MB 7Z / 733 MB UN7Z
This is a game I've been tinkering with on and off for the past few months. It's a raising / corruption sim with 3D images made using Illusion's HoneySelect. You play as Calvin who now lives with his niece Megan, and the goal is to corrupt her. It's a fairly modest game. While it's technically an RPG Maker MV game it plays nothing like a regular RPG as it is pretty much purely menu based with a point-and-click system.
Right now this is mostly a proof-of-concept. The intro is done, the early morning and breakfast low affection/lewdness events are done, and I have all the systems in place. I'm posting it now to get feedback on the systems and to trick people into bug testing it for me (I'd be grateful if people could test out the two current game overs: getting to Sunday without $300 and raising suspicion to 100). I'm also open to any suggestions, comments, and criticisms. Plus, hopefully discussing the game will motivate me to continue working on it.
- Office sex scene. To see this you'll have to do the repeatable version of the late night living room sex scene with Susan again (I've added a new trigger to it at the end). After that, in the Noon period, an event should automatically play that has Calvin going to Susan's office.
- Repeatable version of the office scene. After you've seen the above then when you go to call Susan you should get the option of either visiting her at her office or having her come home for her usual, older scenes.
- Living room sex scene. After you've seen the office scene then the next time you go into the living room at night a scene should automatically play.
- Repeatable living room scene. After you've seen the above then the next time you go into the living room at night you should get a choice about whether or not Megan is there. If you select that she isn't then the repeatable version will play. If you select that Megan is there then you'll be able to do Megan's usual late night living room scenes.