Information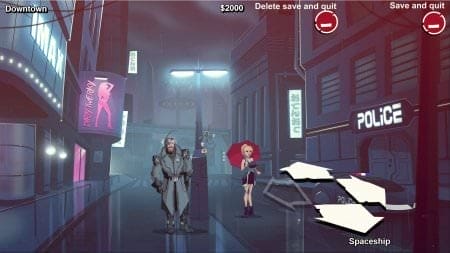 Name: Vega Hunters
Genre: Flash Game, Sci-fi, Animation, Erotic Adventure, Male Protagonist, Sexy Girls, Big Tits, Big Ass, Blonde, All Sex, Blowjob, Doggystyle, Hardcore Sex, Seduction, Fantasy, Mystery
Version: 10.5
Censorship: No
Author: David Goujard
Last updated: 29 November 2017
Language: English
Made in: Flash
Size: 8,86 MB SWF
You will play as an alien bounty hunter who's interested in pretty bandits. This time you will not be stuck on one planet, but travel the whole galaxy.
Changelog
v9.7
-Agent Tangerine (the redhead) is colored and animated. No nude.
-Sex scene with a mutaplant animated. Center of this update.
-Another sex scene with a mutaplant sketched.
-Illustration of Soliandre playing solo.
For the non-erotic stuffs:
-2 new background pictures (lake of the space station, purple landscape).
-Many transitions animated (the hardest was the 4 characters walking).
-A new male character 95% finished, Dexus renamed Pilar.
-In the bounty hunt game-play, the guys are finished.
v6
-I coded the main part of the bounty hunting game-play (click the computer next to the universe map to play it).
-Jeyna Beem, front view dressed and naked. Behind view (on this screenshot... I wanted a nice ass).
-Mildred shooting (on this screenshot).
-Little stuffs that has to be done like sketches of the enemies. The player's hand shooting. And sketchy animations.
-Frox did the cemetery of planet Zaga. Still not 100% finished.