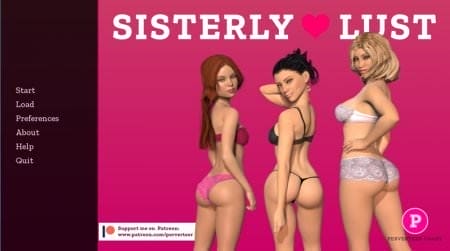 Information

Name: Sisterly Lust
Genre: Incest, Anal, Lesbian, Corruption, Voyeurism, Masturbation, MILF, Group Sex, BDSM
Version: 0.10 HD Bonus Bugfix + Incest patch + Walkthrough - Android 0.10 Bonus + Extra version can be found here!
Censorship: No
Author: Perverteer
Last updated: 19 July 2018
Language: English
Made in: Ren'Py
Size: 607 MB 7Z / 682 MB UN7Z
Until recently you've lived in a different part of the country with your father. Your parents divorced when you were very little and the family was ripped apart after a fierce custody battle. Your mother took her three daughters home, while your father moved away with you. You haven't seen your family since and any attempts at communication were very much discouraged by your father.

But now, everything has changed after his sudden death. During your fathers funeral you were approached by a woman you instantly recognized as your mother. She asked if you would be willing to go home with her, meet your sisters and be a family again.

You hesitantly said yes...
About Bugfix 
Put unofficial-bugfix-SL-v0_10-BAS_v2.rpy in your \game folder, delete any previous version of this patch (both .rpy and .rpyc files), and restart game
PLEASE READ - VERY IMPORTANT 

IMPORTANT: Several users reported a problem with saves and the statistics of Liza, Bella, Rachel and Mrs. Smith resetting in the latest version. I've tracked down the problem and this version should fix it (along with some minor stuff). Only new games and saves made with the 0.4 release are permanently reset, anything saved with v0.33 and below is unaffected by the bug.

So if you want to restore your statistics you'll have to replay from a v0.33 save or start fresh game. Be aware that saves from v0.4 will not work in v0.41. Very sorry for the inconvenience.
Changelog
HD release which updates all the old renders to upgraded Iray versions. There is no new story content, other then the extra scene for $ 15+ patrons.
Changelog:
All images have been updated to Iray renders
Game now runs at 1920x1080 pixels
Added Android build
Day 20: Fix comment about Brody to Riley when you haven't seen him
Day 19: Remove option to "Relax a little" after visiting Mrs. Smith for the second time
Day 19: Fix scene flow with Bella and the visit to the doctor
Day 18: Kissing Mrs. Smith is now only possible if you have a relationship with her, or if you've talk with her whenever possible
Day 11: Added option to resolve situation with Brody even if you do not have a relationship with Liza
Day 4: Added extra shop render
Day 1: Remove conversation option after talking about adjusting
Arrange menu options into columns when there are more than four
Fixed various typos