Sisterly Lust - Version 0.15.1 Extra Edition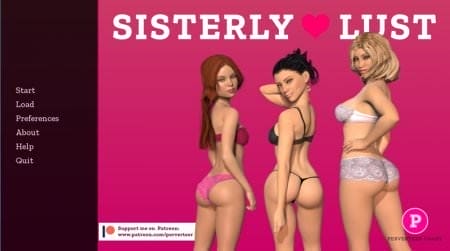 Information

Name: Sisterly Lust
Genre: Visual novel, 3DCG, Incest, Anal sex, Lesbian, Corruption, Voyeurism, Masturbation, MILF, Group sex, BDSM
Version: 0.15.1 Extra Edition + Incest patch + Read or download walkthrough for Version 0.15.1! - Android version 0.15.1 Extra Edition can be found here!
Censorship: No
Author: Perverteer
Last updated: 30 December 2018        
Language: English
Made in: Ren'Py
Size: 538 MB 7Z / 597 MB UN7Z
Until recently you've lived in a different part of the country with your father. Your parents divorced when you were very little and the family was ripped apart after a fierce custody battle. Your mother took her three daughters home, while your father moved away with you. You haven't seen your family since and any attempts at communication were very much discouraged by your father.

But now, everything has changed after his sudden death. During your fathers funeral you were approached by a woman you instantly recognized as your mother. She asked if you would be willing to go home with her, meet your sisters and be a family again.

You hesitantly said yes...
Changelog
Day 28: Fix threesome/foursome when you're willing to share Ana
Day 29: Fix unreachable sexual encounter with Mrs. Smith
Day 30: Fix relationship checks for Rachel's discovery of relationship with Bella
This cleans up some weirdness for players who are not in a relationship with Rachel and saw her just at the end of the latest episode and it also allows players to pleasure Mrs. Smith instead of just seeing a black screen.