Sisterly Lust - Version 1.1.4 Bugfix + compressed
Information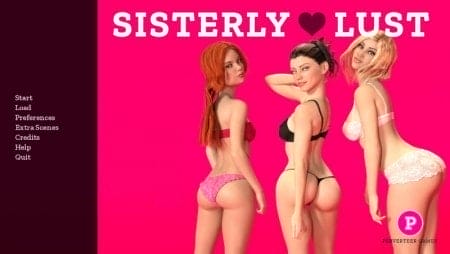 Name: Sisterly Lust
Genre: Visual novel, 3DCG, Incest, Anal sex, Lesbian, Corruption, Voyeurism, Masturbation, MILF, Group sex, BDSM
Version: 1.1.4 Bugfix + compressed - Download Android version 1.0 ES from AdultAPK.com for free!
Censorship: No
Author: Perverteer
Last updated: 28 July 2021
Language: English
Made in: Ren'Py
Size: 1,92 GB 7Z / 2,05 GB UN7Z
Size compressed: 804 MB 7Z / 951 MB UN7Z
Until recently you've lived in a different part of the country with your father. Your parents divorced when you were very little and the family was ripped apart after a fierce custody battle. Your mother took her three daughters home, while your father moved away with you. You haven't seen your family since and any attempts at communication were very much discouraged by your father. But now, everything has changed after his sudden death. During your fathers funeral you were approached by a woman you instantly recognized as your mother. She asked if you would be willing to go home with her, meet your sisters and be a family again. You hesitantly said yes...
Changelog
- Add German translation (thanks to Hein Dattel)
- Update existing translations
- Fix continuity errors regarding Liza (thanks to The Dude)
- Fix wording of Megan pregnancy (thanks to Caeir)
- Spelling and grammar fixes (thanks to Caeir)
- Fix missing images (thanks to Mike Sumra, The Dude)
- Fix syntax error in Spanish translation
- Day 15: Fix bedding situation (thanks to mr_gatez)
- Day 39: Fix continuity errors regarding Susan
Game tags (click on them to see more games):
Incest
,
Lesbian
,
Corruption
,
Voyeurism
,
Masturbation
,
Milf
,
BDSM
,
Ren'Py
,
Anal sex
,
Visual novel
,
3DCG
,
Group sex
Information
Users of Guests are not allowed to comment this publication.