Information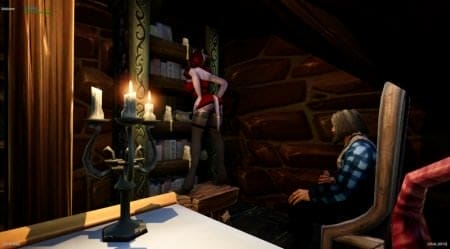 Name
: Tails of Azeroth: Lewd Red Riding Hoof
Genre

: 3D Game, Female protagonist, Animated, Fantasy, Anal sex, Animated, Bestiality, Cosplay, Exhibitionism, Fantasy, Furry, Monster girl, Oral sex, Parody, Seduction, Teasing, Vaginal sex
Version
: 1.03
Censorship
: No
Author
: Auril
Last updated
: 16 October 2018
Language
: English
Made in

: 
Unreal Engine 4
Size

: 1,51 GB 7Z / 4,36 GB UN7Z
Lewd Red Riding Hoof
is the third game in Tails of Azeroth series. Walkthrough
can be found here
.
Changelog
V0.9bRight outside of barracks where you start.
Faye with blacksmith+troll.
Worgen+Faye(Asleep after dart).
House on the hill (talk to druid).
Once inside the grove you will drink from the ritual cup after the tauren fills it up and you will enter a dream.Ruby+Father hoyt
Ruby+Sammy
Ruby+Druid(Catform)
Go to the Inn first and interact with Maiev before doing the next part.
There is a NightElf sitting near the mine by the water that you talk to that is the boyfriend of the demonhunter with Maiev. Talk to him and he will go to the Inn where Maiev will have her way with him trying to get the DH to talk.
Simply return to the Inn and enjoy.
All I found after two plays to make sure I didn't miss anything.
The bulk of this update was the lighting and fixes. It looks absolutely stunning on max settings.
Edit
The game still ends at the same point it did in the last build so don't bother running the entire thing unless you want to. Pretty much all the new scenes can be viewed within the first 5 minutes of the game.
Information
Users of Guests are not allowed to comment this publication.