My Legacy - Version 1.0 + Walkthrough
Information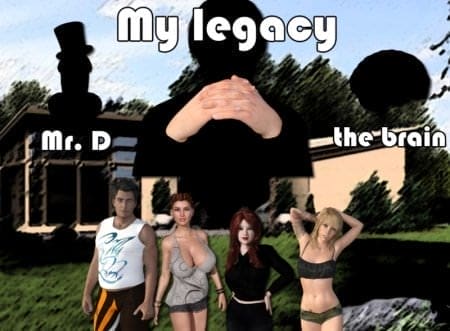 Name: My Legacy
Genre: 3DCG, Incest, Corruption, Oral Sex, Sex, Masturbation, Handjob, Titfuck, Group Sex, Cheating, Lesbian Sex, Footjob, Cumshot
Version: 1.0 Final + Walkthrough
Censorship: No
Author: Saddoggames
Last updated: 3 October 2017
Language: English
Made in: Ren'Py
Size: 1,99 GB RAR / 2,03 GB UNRAR
This game will be about a single man, who works as creator of erotic novels and because of that work and his craziness he is lonely all the time. But he isn't all alone. He has his pals "Mr. D" and "the brain". All of them come to the conclusion that it would be the best idea ever to continue the guys legacy by impregnating the females of the family of his brother, when they came for a visit to him. Can you help him to accomplish his plans and how?
Changelog
EDIT: The new scene is on Sarahs high self-esteem path.
Also fixed some bugs that scenes appear in wrong paths.
Version 0.9.2 now after some delays version 0.9.2 is finished now. It's a bigger scene with around 4500 words and 80 images.
You can reach the scene if you play Anna's+Sarah's bathscene and finish the maid/secretary scene from Jennifer. It's also added to the walkthrough.
Also you got more time to play, morning and afternoon of day 10 are added. This has to be to get more of the endings that come with version 1.0. There are about 20+ several endings, some of them are only slighty different, some are complete different. The renders are done for them and the most of the writings. So it's high likely that i can release the finished game on 28 or 29 of september. And i hope i find all the bugs.
Download links
Warning! You are not allowed to view this text.
P.S. RAR Password is -
adugames
Information
Users of Guests are not allowed to comment this publication.