Information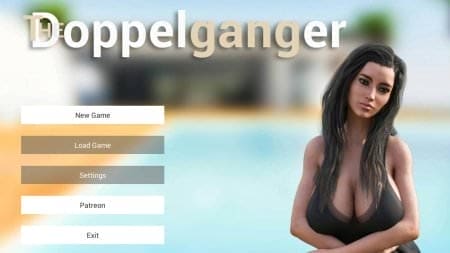 Name
: The Doppelganger
Genre

: 3DCG, Voyeurism
Version
: 0.2.3

 - 

The latest game version is

 

0.4.1!
Censorship
: No
Author
: CipciuGames 
Last updated
: 25 May 2017
Language

: English
Made in
: Unity
Size

: 141 МB
This is a sandbox erotic game for 18+ players. Our main character is Rocky, an ex prisoner who heard about a stone that can change his appearances. Being released after 10 years he decided to change his life until he heard again the same story. After investigating he concluded that the stone is real and the one having it, is a rich guy named Lamont. Rocky decided to infiltrate as a bodyguard for this family so he can have access to the stone. For his plan to succeed he had to hire some thugs that were trying to kidnap Nichole, Lamont's wife, while he was going to save her and be the hero of the day. Can Rocky find the stone and change his appearances? Only you can decide that, but don't forget that Rocky is a man and a man has some sexual needs.
One important thing changed in the version 0.2.3 beside the fixed bugs is the salary. Because until we add the fighting system and fighting pits in 0.3 the only way to make money is the weekly payment and the gambling, which is 40% chances of win, we decided to change the salary to 450$ per week. I hope this will help you grinding the skills.

We also changed the learning system.
Beginner : 50$ and it will give you 2 points on the skill (before 50$ – 1p)
Intermediate: 75$ and it will give you 3 points on the skill (before 100$ – 2p)
Advanced: 125$ and it will give you 5 points on the skill (before 200$ – 4p)
Expert: 200$ and it gives you 8 points on the skill (Before 400$ – 8p)