Hack'n Stalk - Version 1.0 RC
Information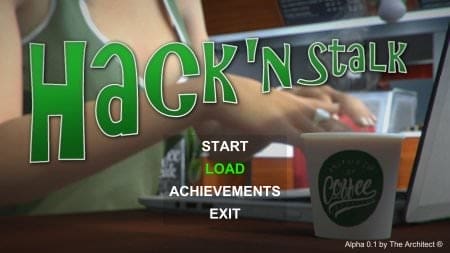 Name: Hack'n Stalk
Genre: Stalking, Voyeur, M/F, Corruption, Karma
Version: 1.0 RC
Censorship: No
Author: The Architect
Last updated: 23 May 2017
Language: Unity
Size: 133 MB
About
Hi! I'm The Architect. I'm developing the game Hack'n Stalk, a short adult game that mixes elements of visual novels, RPGs and action minigames. It features a male player character using dirty hacking skills to conquer or corrupt an unsuspecting girl, with multiple endings based on player decisions and the final status of the characters. 
Featuring:
Lots of story choices leading to 5 diferent endings
Action minigames games immersed into the story line
Full HD interactive and animated XXX scenes
An achievement system to track player progress
Hack'n Stalk is free and will always be. As it's a short game, I plan to release a final version very soon.
Images included in all endings
"Cloud Photos" app on the computer is now working
Conditions to reach the "good ending" slightly changed (check guide for spoilers)
The "good ending" now is slight different based on player karma (check guide for spoilers)
Minor text modifications (most on the endings)


P.S. ZIP Password is -
adugames