The Senior - Version 0.1.4b
Information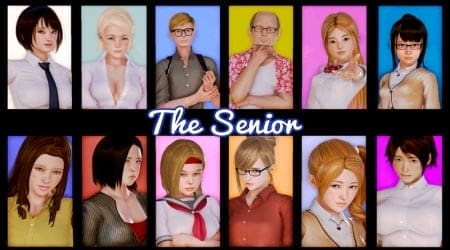 Name
: The Senior
Genre

: 3DCG, Visual novel, Incest, Adventure, Milf, Big Ass & Breasts, Masturbation, Teacher, Voyeurism
Version
: 0.1.4b
Censorship
: No
Author
: Yc3k
Last updated
: 6 August 2018
Language

: English
Made in
: Ren'Py
Size

: 522 MB 7Z / 626 MB UN7Z
The idea behind this game came after playing Akabur's excellent "Princess Trainer" and "Witch Trainer" which, despite being adult games, are great in storytelling and characters. The premise of the game is somewhat a classic Hentai/Anime plot. A main protagonist with moral issues finds a mentor who helps him achieve his goals. The game's main focus will be storytelling. That doesn't mean there will be no H-scenes, on the contrary, but the idea is to create a narrative experience for the player with detailed character backgrounds, personalities and story as the backbone of the game. The game itself will be very text heavy, which you will be able to see in the demo.
Changelog
Added bathroom scene - for now you can take showers only there for extra energy
Added Danielle bathroom scene - you can barge in on her and spy her
Added Danielle bathroom photo opportunity - if you meet the right conditions you will be able to take her pictures
Added "Take a photo" for Danielle in the living room
Added missing labels for Danielle - bug fix
BUG - Fixed some of the Haley seduction inconsistencies
BUG - Fixed broken Danielle label that would make you randomly jump to a wrong scene
Removed the "Are you sure" question when trying an interaction on any girl
Various other bug fixes
Also, in this build the notorious "load an old save" bug should be fixed which means that if you have an older 0.1.4a version your old save game files should work fine. Hopefully.