A Town Uncovered - Version 0.13b
Information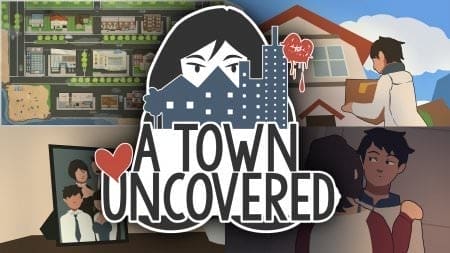 Name: A Town Uncovered
Genre: Visual Novel, 2DCG, Incest, MILF, Exhibitionism, Voyeurism, Lesbian, Freeuse, Oral Sex, Vaginal Sex, School Theme, Titfuck, Group Sex, Male Protagonist, Lactation
Version: 0.13b (bugfix) - The latest game version is 0.17a!
Censorship: No
Author: GeeSeki
Last updated: 23 November 2017
Language: English
Made in: Ren'Py
Size: 520 MB 7Z / 953 MB UN7Z
About Game
You play a senior high school student who just moved into a new town, but straightaway, you have a feeling that it's not the usual town that one would expect. This town holds a secret that's causing the locals to disappear and acting strangely. It's not going to be a smooth ride for you, it seems like trouble and weird events are attracted your way.
What features are going to be in this game? This game features a main story, character relationships and development, skill stats, a wide variety of fetishes, side quests, a town to explore with many locations and even more interior locations, and of course, H-scenes.
New cheat code
frozenlamb
.
Changelog
+Sister Progress
+General Code Restructuring
+General Fix of Mom's Story Trigger Points
+General Font, Spelling and Grammar fixes
+Added New Location
+Added Incest Porno with Mom Scene
+Added Anal Missionary Scene in Mom's H-scene
+Added Anal Bent Over Scene in Mom's H-scene
+Added Mom Movie Date Handjob Scenes
+Added Mom Movie BJ Scenes
+Added Mom Midnight Magazine-Triggered Grinding Scene
+Added a Research Section for Story Progressing Purposes
+Added Proper Transition Conversations based on outcome after Mom's Dinner Date
+Added a 'Next Week' option for Effie's Text to Meet at the Park
+Improved Notification at the end of Mom's Dinner Date
+Improved Mom Objective about 'Waiting till Friday'
+Optimized sprite coding in scenes with 3 people
+Fixed Trigger points for Mom Watching Porno Scene
+Fixed Temporary Mom Trigger to Revisit the Home Run Scene
+Fixed Shopping feature so that items can only be bought once
-Missing Art include: Dreams about Mom
Game tags:
Visual novel
,
2DCG
,
Incest
,
Milf
,
Exhibitionism
,
Voyeurism
,
Lesbian
,
Freeuse
,
Oral sex
,
Vaginal sex
,
Titjob
,
Group sex
,
Male protagonist
,
Ren'Py
,
GeeSeki
Information
Users of Guests are not allowed to comment this publication.